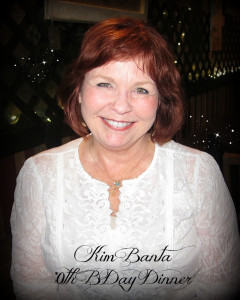 This is where I am supposed to tell you about myself.  Hmm.  If you saw me walking down the street, you might first notice that I'm a short gal, comfortable in my later middle-age.  Freckles are all over my face and, well, most of the rest of my body.  I'm okay with that!  Then, hopefully I will be smiling a big, toothy smile as I pass by!  Optimism is in my blood, and I lean toward that half-full glass as much as possible.
My soul lives for all that's creative and colorful.  I'm blessed with two grown, pretty great kids, a girl and a boy.  Hubby and I have been hitched for a loooong time!  37 years at this moment.  How did all of that time go by?!
I act on camera in film, TV, commercials and such, and have for the past 27 years.  It's a huge part of me, and will be as long as I can breathe!
Machine embroidery sustained me for several years as a business, but now I am doing it for fun, for family, friends, and a few very patient long-time clients.  It feeds my creative soul, and sewing and crafting and embroidery relax me so.  Reading shuts off my brain and puts me to sleep nightly.
I like my quiet time, but love gabbing with friends while we laugh away the hours.
Is that all there is to me?  I love Angels and believe in Ghosts.
Oh!  My name is Kim Banta, and I live in (and around) Atlanta!  (Georgia)
So nice to meet you!